Creating custom fiberglass molds in Brighton, CO comes down to a thorough understanding of the scope of fiberglass solutions. EJ Painting & Fiberglass Inc is ready to put our expertise to work for you, so you always know what's possible when it comes to your design. We'll work with you through the entire mold design process and illustrate our complete scope of abilities when the time comes for fiberglass mold-making.
Mold Design
Creating something out of fiberglass? We can help make sure your design is fully functional and visually appealing to customers. Our ability to create custom fiberglass molds in Brighton, Denver, Littleton, Aurora, and Lakewood, CO is second to none and we're delighted to be able to tailor our many years of experience around the specifications of your project. Whether function, aesthetic or architectural, our molding design process ensures the final product meets your highest expectations.
Making FRP Parts
Once you have a highly accurate mold, manufacturing your product becomes a lot easier. We can help you get the solid start your business needs. Our fiberglass mold-making abilities span the gamut and we're always happy to discuss the correct methodology and approach for your project. Our abilities include: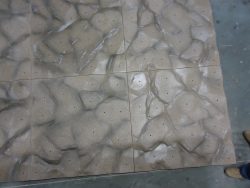 Hand Lay-Up:
This open-molded process relies on a single-side mold, where fiberglass is applied by hand, then saturated with a liquid polymer to form a laminate.
Spray-Up Process:
Another open-molding process, spray-ups are done via a chopper gun and random orientation fiber, which allows the mold to be more intricate.
Vacuum molding:
Instead of pressure, this closed-molding technique pulls in resin through a vacuum to quickly and accurately form a molded object. There are several variations on this method.
Let the EJ Painting & Fiberglass Inc team put our experience and extensive capabilities to work for you when it comes to fiberglass mold-making, design, and creation. Reach us today at 303-288-8373 to discuss your project and let us help you decide the right course of action for creating ideal custom fiberglass molds, gel coatings, and fabrication.