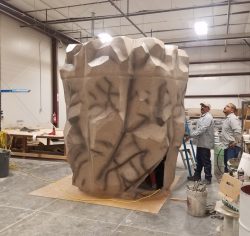 When it comes to custom fiberglass fabrication in Brighton, CO, few companies offer the experience or versatility of EJ Painting & Fiberglass Inc. Let us be your partner right from the start! Our team truly does it all.
Pattern Development
Looking for a custom fiberglass fabrication expert to help you work out the kinks in your product design schematics? Let us help you develop a pattern that works for your business and for your customers! We're able to provide expert oversight in the development of original patterns, lending our decades of industry expertise to your focus on the development of fiberglass molded parts in Brighton, Denver, Littleton, Aurora, and Lakewood, CO.
Tooling
Let us get the tooling just right on your fiberglass project, so that you can focus on creating great products. We're able to create custom fiberglass molds around virtually any type of product—no matter the size, shape, complexity or final application. Call on us for tooling solutions that meet the expectations of your product development team.
Plug Work
Plug (or Master Mold) work can be a little tricky, but our decades of experience and commitment to excellence ensure that our services are always worth using. We're able to craft an exact representation of your product being designed, right down to the most intricate details. From there, we take care of the preparation for the fiberglass molding to be made.
Our team understands the importance of high-caliber plug work and we always go above and beyond to make sure this process is completely sound, resulting in exceptional molds.
Get In Touch!
For more information about our full scope of custom fiberglass fabrication abilities or to inquire about pattern development, plug work, gel coating, or tooling for your fiberglass molded products, contact EJ Painting & Fiberglass Inc today at 303-288-8373.