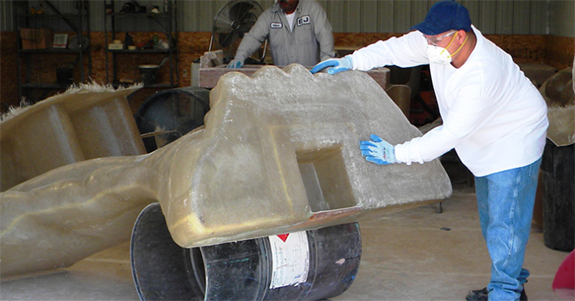 Fiberglass Fabrication in Denver, CO
Since 1982, clients have counted on EJ Painting & Fiberglass Inc. to provide helpful, efficient and reliable fiberglass services. We specialize in fiberglass fabrication in Denver, CO, and you can always see our experience and passion reflected in the quality of our work. As a family owned and operated business, we manage to maintain a strong balance of indisputably strong work and unfailingly accommodating customer service so that our clients never have to choose one over the other. Here is a closer look at the different services EJ Painting & Fiberglass Inc. can perform for your business:
Coatings: We have specialized in custom fiberglass fabrication in Denver, CO for over 30 years, and our coating services are among the best in the industry.
Design: Creating something out of fiberglass? We can help make sure your design is fully functional and visually appealing to customers.
Gel coating: Keep your products in strong condition for much longer by taking advantage of our effective gel coating services.
Mold making: Once you have a highly accurate mold, manufacturing your product becomes a lot easier. We can help you get the solid start your business needs.
Pattern development: Let us help you develop a pattern that works for your business, and for your customers.
Plug work: Plug work can be a little tricky, but our decades of experience and commitment to excellence ensure that our services are always worth using.
Tooling: Let us get the tooling just right on your fiberglass project, so that you can focus on creating great products.
Whatever fiberglass service you need, the team at EJ Painting & Fiberglass Inc. is up to the job. For more information on our effective services and reasonable prices, please give us a call at 303-288-8373, or visit our Contact Us page.